New technology fully unlocks battery potential for large scale applications - costs and downtime significantly reduced and performance and safety radically improved
Brill Power's novel technology marks a step change in commercial viability and operational management for grid level battery manufacturers and static storage system developers
June 14, 2023

New scalable Battery Intelligence Platform for large-scale application with integrated power conversion
Battery lifetime extension of up to 60%, avoiding the costs of system 'overbuild'
Patented active loading technology improves safety and uptime
Universal, chemistry-agnostic operating system with over-the-air update capability
Fully integrated, cloud-based monitoring and analytics for optimal operation
14 June, 2023. Oxford UK, and ees Europe, Munich. On the opening day of ees Europe, Europe's largest international exhibition for battery and energy storage systems in Munich, Brill Power unveiled a new product to enable developers of industrial and utility-scale battery systems to extract maximum potential from batteries and deliver a range of commercial and performance improvements, including the extension of battery asset lifetime by up to 60%.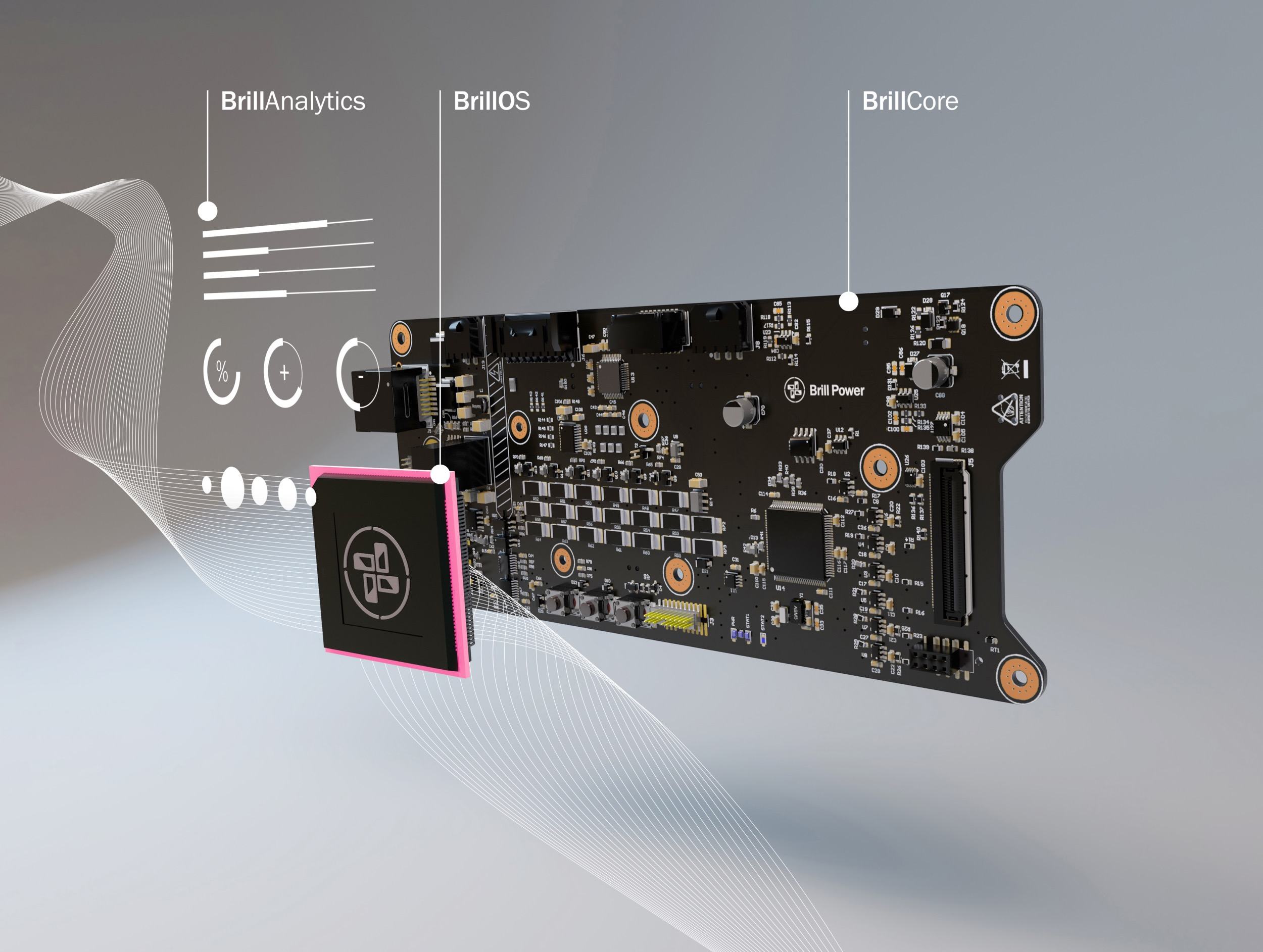 Brill Power is an Oxford University spin-out and a market-leader in novel hardware, software and analytics technologies that optimise the performance of battery systems. Today's launch of Brill Power's BESA BP6X1 unlocks optimal battery performance explicitly for larger battery systems in industrial, commercial and utility-scale applications. The groundbreaking technology provides pack and systems developers with a compelling commercial advantage alongside improved lifetime performance for their customers.
At the heart of the BESA BP6X1 solution is BrillCore, hardware that provides intelligent 'active loading' of battery cells or modules to overcome the inherent performance limitation of the weakest cell in the pack that limits existing BMS solutions. Active loading allows all of the potential from battery cells to be utilised, extending battery lifetime by up to 60%. This extended lifetime provides a solution to the typical operator dilemma of overbuilding systems to compensate for anticipated battery degradation. 
By delivering a significant extension to battery lifetime, the capex required to commission new large scale battery systems can be reduced by up to 29% and the carbon costs associated with replacing degraded cells is reduced by 50%. In addition to the commercial and environmental benefits, the technology also improves the safety and uptime of battery systems by detecting and isolating faults and enabling fault bypassing to ensure continuous systems operation.
For large scale applications, these significant performance gains present an unmatched opportunity to make industrial and utility-scale batteries more commercially competitive for systems developers and their customers. Alongside the BrillCore technology (that includes power conversion as one of its many features), Brill Power's BESA BP6X1 product also integrates a proprietary operating system, BrillOS.
BrillOS is chemistry-agnostic and has over-the-air (OTA) update capability to provide customers with an enduring and flexible software solution to optimise module management, and ensure compatibility with any future battery technology that may be used for replacements or augmentation. 
With the option to complement BESA BP6X1 with Brill Power's own cloud-based analytics platform, BrillAnalytics, system owners and operators have access to a fully integrated, end-to-end solution that delivers high-accuracy data and insights from cell to screen, which include safety monitoring and prediction of remaining system lifetime. ​ 
Addressing the intent behind the development of the BESA BP6X1 system, Brill Power's CEO, Dr Christoph Birkl said, "Industrial and grid-scale battery systems are necessarily large and expensive investments, so any frailty in the technology can have profound implications for the success and viability of the solution. With BESA BP6X1, we have systematically addressed all of the pain points for pack and systems developers to deliver a product suite that will make costs lower, performance better and operations easier and safer for their customers."
- Ends -
Download the BESA BP6X1 Spec Sheet here.
Images
Click here to download a Brill Power image selection in full resolution, copyright free for editorial purposes
About Brill Power
Brill Power brings together a unique team of world-class experts in battery and power management, edge computing, and data analytics. Newly developed, the Brill Power Battery Intelligence Platform brings transformational advances in longevity, performance, cost, and sustainability to electric vehicles and stationary energy storage.
For more information, please visit brillpower.com
Media Enquiries
Please contact Liam Clogger, Whistle Ignite
t +447585 607090