HORIBA MIRA opens Driving Simulator Centre to enhance next-generation vehicle attribute engineering
September 28, 2023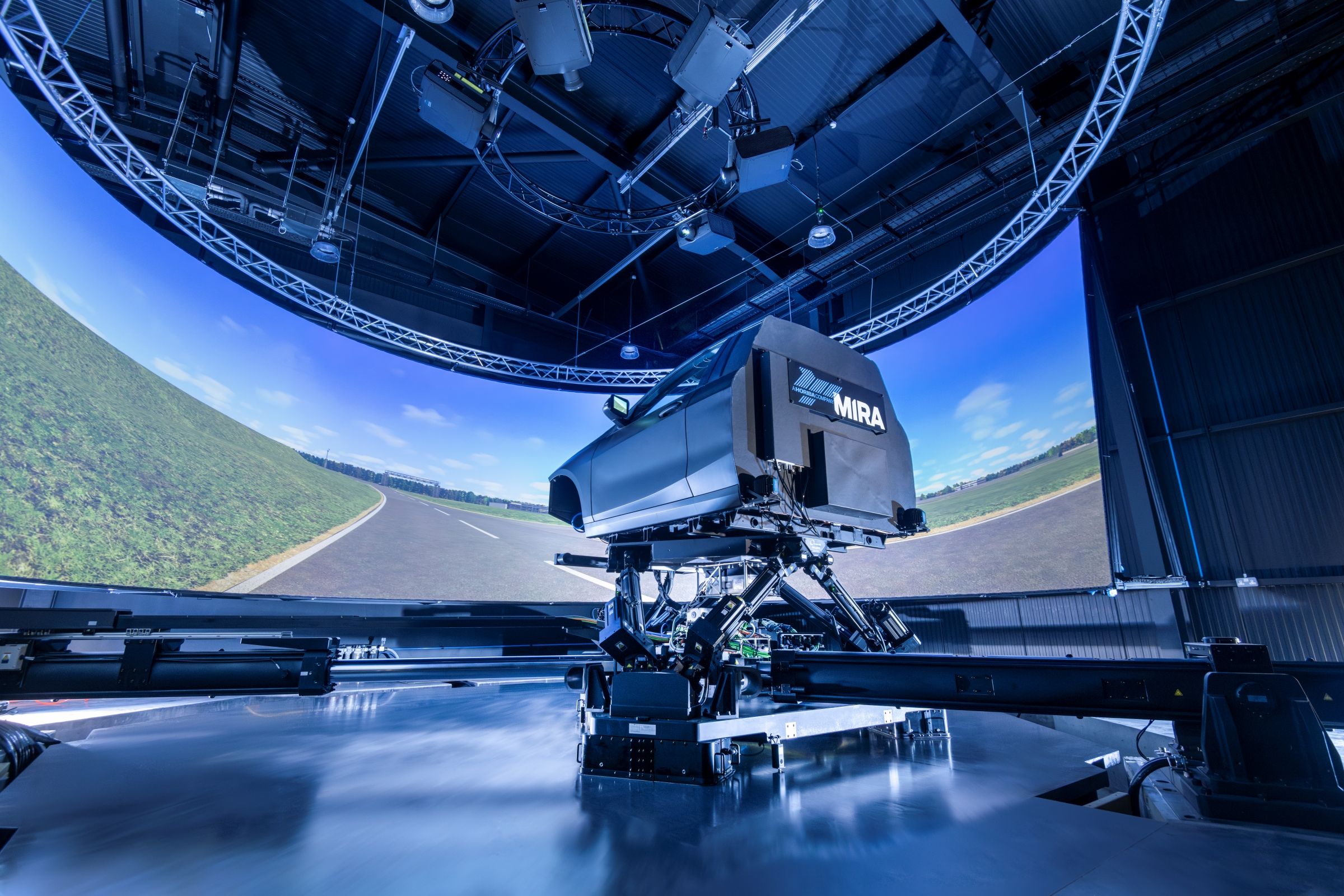 Driving Simulator Centre provides a safe, controlled, efficient and cost-effective environment to develop, simulate and optimise vehicle attribute performance and tackle complex engineering challenges
Significantly reduces the need for physical vehicle testing, prototypes and the associated carbon emissions – vehicle models developed using the simulator could avoid up to 14,000 tCO2e*
Offers best-in-class tools – including the only VI-grade DiM250 Dynamic Simulator in the UK – supported by HORIBA MIRA's unparalleled engineering service and attribute-led methodology
New facility cements HORIBA MIRA's position as a leading global provider of vehicle attribute engineering
Download high resolution images and video here
Nuneaton, Warwickshire, 28 September 2023. Automotive engineering, test and development consultancy HORIBA MIRA has launched its new Driving Simulator Centre at its UK head office in Nuneaton, Warwickshire. Featuring cutting-edge driver-in-the-loop simulator technology, supported by HORIBA MIRA's unparalleled engineering service and consultancy, the Driving Simulator Centre affirms HORIBA MIRA's position as a leading global provider of vehicle attribute engineering.
Over £4 million has been invested in the new facility to enable established automotive OEMs, new start-up vehicle manufacturers and tier one suppliers to develop new vehicles that reflect marque brand characteristics. By using virtual tools, the new capability will deliver vehicle attributes that conform to brand DNA faster, more sustainably and at a reduced development cost.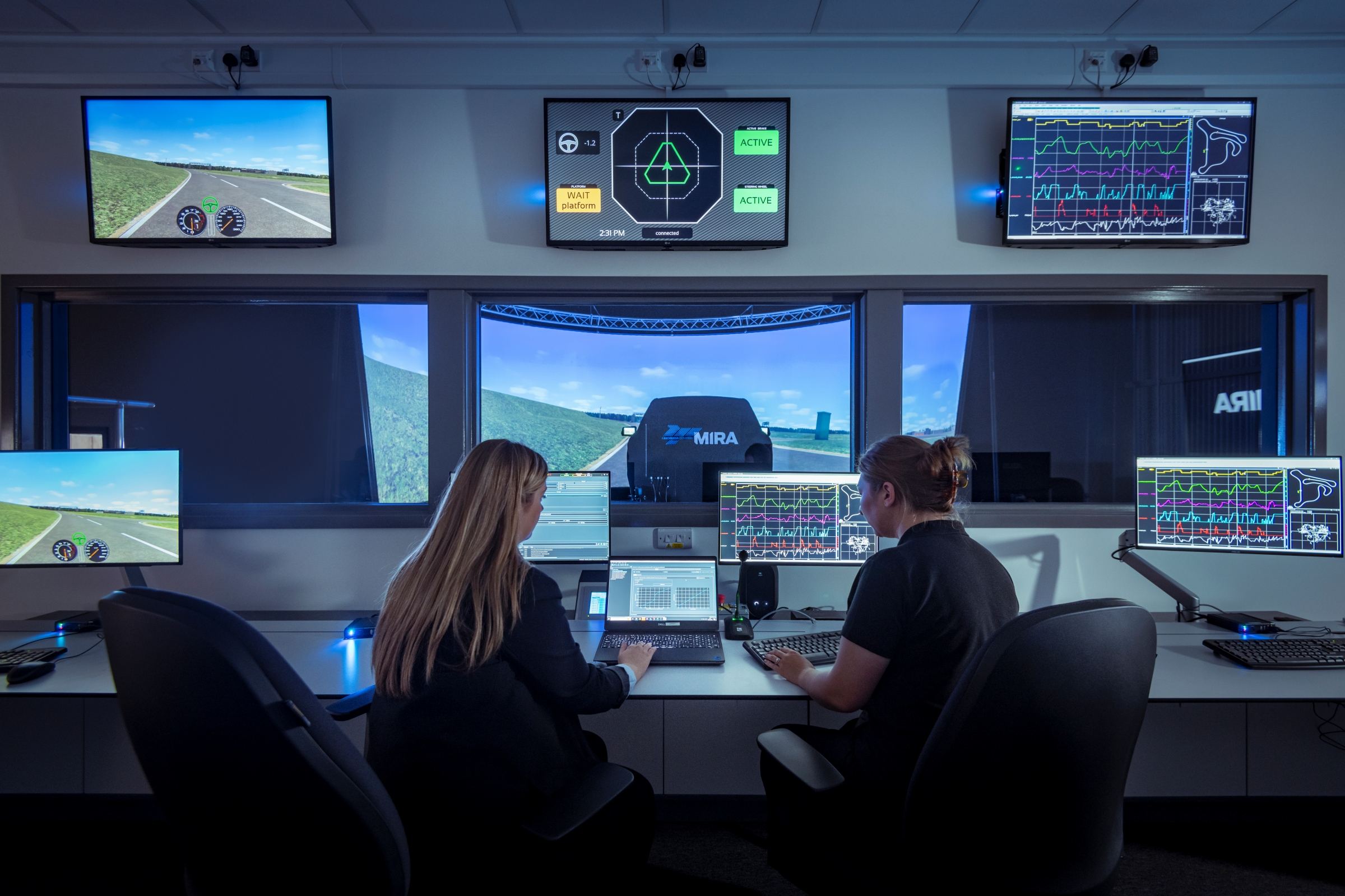 At the heart of the new Driving Simulator Centre is the UK's first VI-grade DiM250 Dynamic Simulator, one of the world's most advanced and high-performance dynamic motion driving simulators. Use of the simulator significantly reduces the need for physical vehicle testing and prototypes, reducing associated carbon emissions. At full reduction, one developed vehicle model using the VI-grade simulator could avoid a maximum potential of 14,000 tonnes of carbon dioxide equivalent (CO2e).*
Customers utilising HORIBA MIRA's Driving Simulator Centre will also get access to its VI-grade COMPACT simulator, acquired in 2021, conveniently located within the same facility.
The Driving Simulator Centre, together with HORIBA MIRA's subjective led attribute methodology, puts the human-in-the-loop at the very start of the virtual engineering series. Attribute development engineers can make accurate and unlimited comparisons quickly and at lower cost, often at the flick of a switch. This is especially important when working to balance conflicting attributes to achieve an optimised vehicle. This results in more informed subjective-led decisions being made throughout the entire development cycle rather than waiting for a physical prototype – and in many cases can significantly reduce the number of prototypes required. ​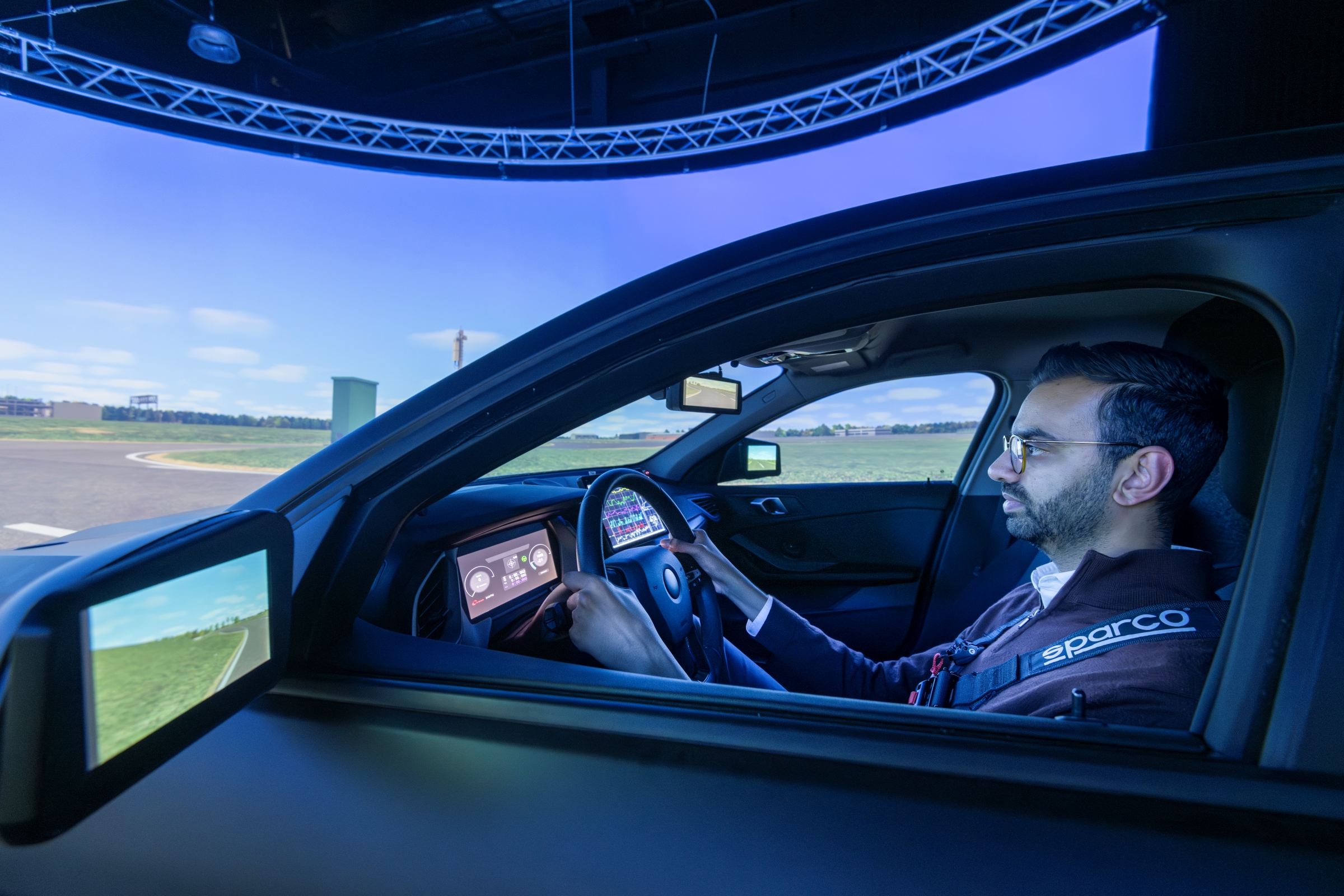 The Driving Simulator Centre enables automotive companies to conduct virtual development across many automotive applications. Predominantly this is focused on the driven attributes: vehicle dynamics, noise, vibration, and harshness (NVH), and drivability, but also includes holistic engineering across capabilities growing in complexity and importance, such as advanced driver assistance systems (ADAS), human machine interface (HMI) and x-in-the-loop (XiL) applications.
For almost 80 years, HORIBA MIRA has played a pioneering role in automotive engineering innovation. As the industry pivots, HORIBA MIRA continues to lead the charge and is aligning its engineering capabilities and infrastructure to support its customers in the transition to net zero. The Driving Simulator Centre is a key enabler of net zero ambitions by significantly reducing the industry's reliance on carbon-intensive physical prototypes.
Alongside the Driving Simulator Centre, HORIBA MIRA has made significant investments in its propulsion and electromobility capabilities, as well as developing the MIRA Technology Park in Nuneaton, which is now home to 40+ pioneering companies working on emerging technologies that are revolutionising the automotive industry to help it to realise net zero.
Declan Allen, Managing Director at HORIBA MIRA said, "Through the newly launched Driving Simulator Centre, the speed, cost and complexity of refining driven vehicle attributes to meet today's changing customer expectations is significantly reduced. This new facility enhances HORIBA MIRA's capabilities and is an enabler of its attribute-led development methodology, while also being a critical tool supporting complex engineering developments across ADAS, HMI and XiL."
Guido Bairati, Managing Director at VI-grade said, "We are delighted that VI-grade and its simulators have been selected as the tools of choice for HORIBA MIRA and its Driving Simulator Centre. With a long and respected automotive engineering history, we're excited that both VI-grade's DiM250 Dynamic Simulator and COMPACT simulator will be supporting global automotive manufacturers and suppliers as they look ahead to future vehicle programmes and engineering challenges."
For more information about the HORIBA MIRA Driving Simulator Centre click here.
Images
Click here. to download a selection of high-resolution, copyright-free images and video from HORIBA MIRA that can be used for editorial purposes.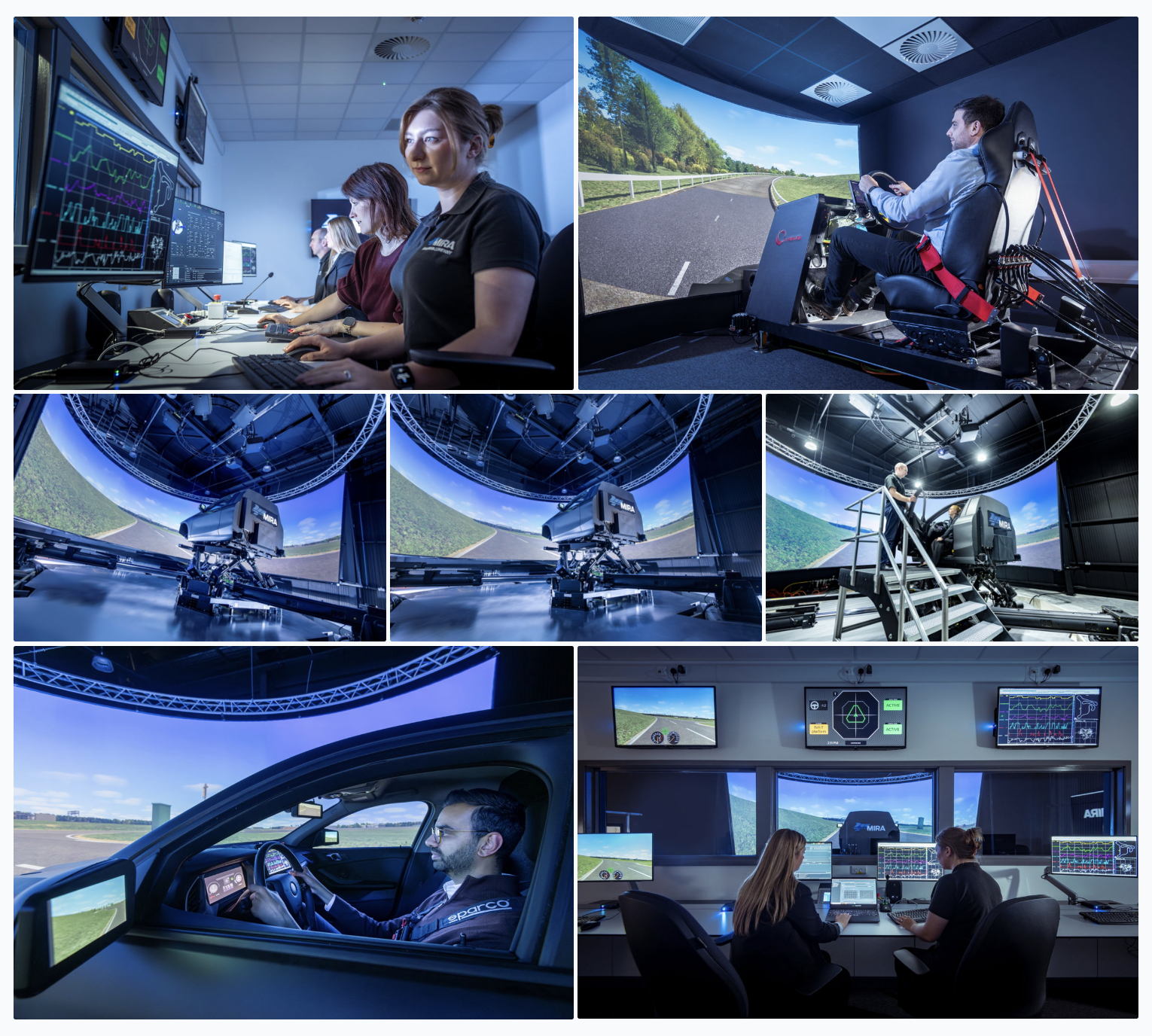 ​Notes to editors
For more information, please contact:
Melissa Wicks, Whistle Group
​e [email protected] ​
​t +44 (0)7835 590481
Liam Clogger, Whistle Group
​e [email protected] 
​t +44 (0)7585 607090
About HORIBA MIRA
​​
​HORIBA MIRA is a global provider of automotive engineering, test and development consultancy. We work in close collaboration with vehicle manufacturers and suppliers around the world, providing world-class support for automotive product development.
From technology development through to full-vehicle programmes and certification, we have the breadth, capability and flexibility to support an international customer base, with our engineers utilising the latest test facilities and simulation tools to improve lives by making journeys safer, cleaner and smarter.
We've been developing some of the world's most iconic vehicles for nearly 80 years, working to achieve our vision – that every journey in the world will be positively influenced by us. The unique combination of our advanced facilities, engineering expertise and prime location of MIRA Technology Park in the heart of the UK automotive industry, ensures our customers can develop and validate their technology, or vehicle, in one place. 
| | |
| --- | --- |
| Company Name | HORIBA MIRA Ltd. |
| Address | Watling Street, Nuneaton, Warwickshire, CV10 0TU, UK |
| Incorporated | 1st January 1946 |
| Business domain | Engineering Consultancy, Test Consultancy, Transport ​ Technology Park |
| Representative | Declan Allen - Managing Director |
| Web address | |
About VI-grade
VI-grade is the global provider of disruptive vehicle development solutions that are paving the way to developing vehicles with Zero Prototypes. Its human-centric solutions comprise industry-leading real-time simulation software, professional driving simulators and Hardware-in-the-Loop solutions that accelerate product development across the transportation industry.
The company's suite of scalable driving simulators covers a wide performance range to assess the multi-disciplinary driving experience. These proven solutions enable OEMs, suppliers, research centers, motorsport teams and universities to reduce physical prototypes while accelerating innovation in their quest to get ever nearer to achieving the ultimate development goal of Zero Prototypes.
VI-grade is part of HBK's Virtual Test Division, which focuses on providing real-time software, simulator, and hardware-in-the-loop solutions to virtually test products throughout the development cycle, helping companies accelerate innovation and reduce time-to-market, and improve their competitive advantage.
For further information, please visit https://www.vi-grade.com
About HORIBA
Headquartered in Kyoto, Japan, the HORIBA Group is a global leading supplier of measurement technology and systems for various fields from automotive testing, process and environmental monitoring, in-vitro medical diagnostics, semiconductor manufacturing and metrology to scientific R&D and QC measurements.
| | |
| --- | --- |
| Company name | HORIBA, Ltd. |
| Address | 2, Miyanohigashi-cho, Kisshoin, Minami-ku, Kyoto, Japan |
| Web address | |
| Founded | October 17, 1945 |
| Incorporated | January 26, 1953 |
| Net sales | 270,133 million Japanese yen (Consolidated, Fiscal 2022) |
| Paid in capital | 12,011 million Japanese yen (As of December 31, 2022) |
| Business domain | Manufacture and sale of analytical measurement equipment |
| Fiscal closing date | December 31, annually |
| Annual meeting of shareholders | Held in March |
| Number of employees | 8,432 (Consolidated, as of December 31, 2022) |
| Representative | Atsushi Horiba – Chairman and Group CEO |
| Stock listings | Tokyo Stock Exchange, First Section Securities Code: 6856 |
About HORIBA Automotive
HORIBA Automotive, a business segment within the HORIBA Group, has developed global leadership in the fields of battery and fuel cell test stands, data management solutions, driveline test systems, engine test systems, brake test systems, wind tunnel balances, emissions test systems and test facility automation. In addition to its product-based applications, it offers a comprehensive suite of vehicle engineering, validation and certification services. HORIBA Automotive is able to offer its customers complete solutions, with full turnkey capability, for all industries using electric motors, internal combustion engines and turbines. These include the automotive, heavy-duty, off-road, consumer goods, marine, defense, aerospace and rail sectors.