Dr Andy Palmer CMG, the godfather of the EV, outlines his vision for vehicle electrification 2.0 with Brill Power
Pioneer of the Nissan LEAF joins Brill Power as chairperson to bring game-changing British technology to EV batteries
August 14, 2023

Palmer to chair Brill Power, the Oxford University spin-out that is revolutionising how batteries power vehicles 
Brill's proven technology extends EV battery lifetime by up to 60%
Brill makes a significant contribution to vehicle electrification 2.0 by reducing the cost of ownership of EVs and environmental footprint while improving life, range and safety 
A new era of vehicle electrification is characterised by intelligent, connected and better integrated battery systems
Brill Power is another British company assisted by Palmer to accelerate zero emissions mobility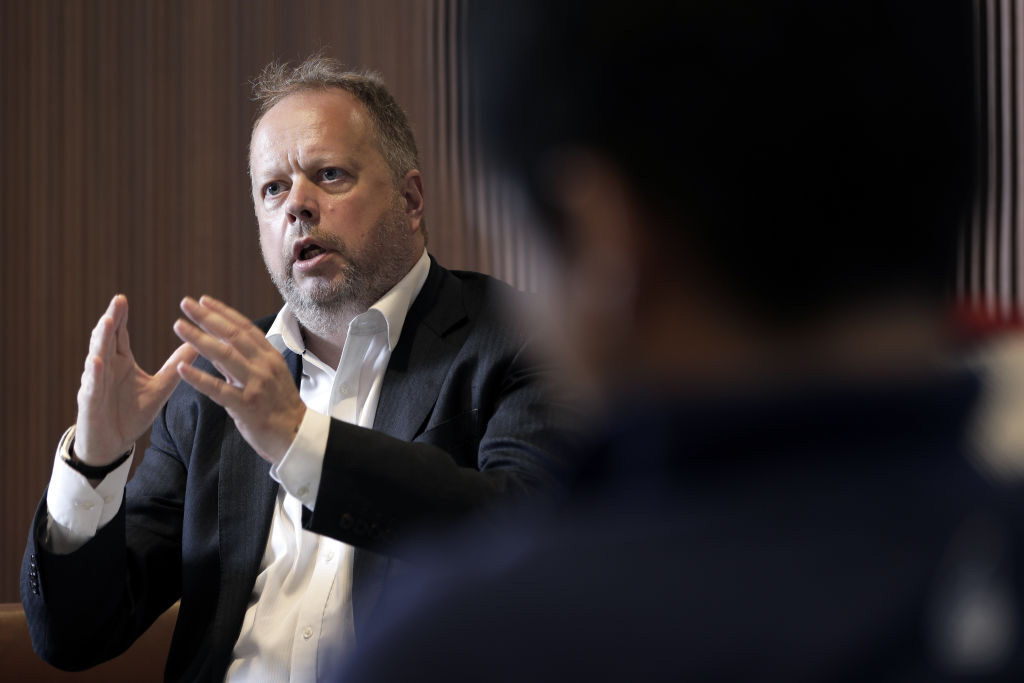 [Embargoed until 00:01 15.08.23] Oxford UK. Dr Andy Palmer CMG widely regarded as the pioneer of electric vehicles following his stewardship of the Nissan LEAF project more than a decade ago, was today announced as the new chairperson of Brill Power, a battery technology company that he believes will make a key contribution to ushering in a new era in vehicle electrification.
Dr Palmer brings 40 years of automotive industry knowledge to Brill Power as the former COO of Nissan and CEO of Aston Martin Lagonda.
With electric vehicle adoption and recharging networks gaining traction in the lead-up to the 2030 ban of the sale of ICE-powered vehicles, Dr Palmer believes Brill's technology, with its capacity to extend all types of EV battery lifetime by up to 60%, while enhancing performance, reducing cost of ownership and improving sustainability, will be key to the next stage of intelligent vehicle electrification.
With its technology spun out of Oxford University, Brill Power has developed a patented method to overcome the core performance limitation of all batteries that is defined by the weakest cell in any battery pack. With its active loading approach, Brill's hardware optimises charging and discharging cycles in proportion to individual cell health, allowing OEMs and the tiered supply chain to deliver solutions that significantly extend the life of vehicle batteries and dramatically increase EV range, thereby solving major consumer adoption issues for the industry.
In addition to optimising battery longevity and performance, Brill has also closed a major blind spot for EVs that currently present a risky purchase proposition in the used car market. With its data analytics solutions, Brill can provide dependable battery health intelligence to buyers and forecast future vehicle life, a critical factor in opening up the second-hand market and democratising EV ownership. 
Brill's technology also allows residual storage potential in a vehicle battery at the point of scrappage (reckoned to be around 70%) to be harnessed for second-life applications. This can provide OEMs with vital pathways for the re-use of spent batteries and maximise the value of battery assets.
With its intelligent oversight of batteries that also adds valuable safety benefits by isolating cells in danger of overheating, Dr Palmer points to the start of a new phase in vehicle electrification. "We're seeing a lot of very smart British businesses with exciting and game-changing technologies enter the electrification marketplace. As EV adoption ramps up, companies like Brill can tackle some of the limitations that have been inherent in the current generation of EVs and will move electric driveline technology into a smarter, cleaner, connected and optimised future," he said.
"I have been surveying new breakthrough companies that have the potential to maintain the UK's leading position in clean vehicle technologies and I was very impressed with Brill Power's potential to answer some of the industry's key challenges. I'm delighted to have taken up the chair for this exciting young company for whom the future is very bright," Palmer added.
Brill Power's technologies are bringing transformational advances in longevity, performance, cost, and sustainability to many areas of battery application from EVs to stationary storage systems that harness renewably-generated power.
Brill Power's CEO, Dr Christoph Birkl said, "Our technologies at Brill Power have the capability to solve many of the problems associated with the shift to zero emissions mobility. Having Andy on board to steer our future course and advise how the automotive industry can benefit from our solutions, is a huge boost to the company and our ambition to focus on sectors that are placing the most significant reliance on batteries." 
- Ends -
Images
Click here to download a Brill Power image selection in full resolution, copyright free for editorial purposes
Media Enquiries
Liam Clogger, Whistle Ignite
t +44 (0)7585 607090
Editor's Note - Brill Power's Automotive Technologies
Improving performance
Since the invention of the Volta battery in 1800, the technology has been susceptible to a significant inherent limitation; the overall performance of a battery pack is defined by the weakest cell. In 2014, Brill Power's founders commenced research at the University of Oxford to seek solutions to this limitation. Their findings form an important element of Brill's patents and underpin the company's products that are enabling automotive electrification to move into its next phase.
At the core of this innovation is a completely different way of controlling batteries, termed ​ 'active loading'. Unlike more conventional approaches, active loading accesses all the energy and power from every cell in a battery pack. Without this, battery performance is limited by the weakest cells. For an EV, active loading provides the following benefits:
1. Longer range: more energy can be accessed without compromising battery health
2. Longer lifetime: the weakest cells no longer dictate when a battery needs to be replaced
3. Safety: a uniform battery temperature can be achieved through proactive electrical control, rather than reactive cooling. This prevents individual cells from becoming too hot and causing safety issues
4. Second-hand use: longer lifetime and greater reliability reduces the financial risk of purchasing second-hand EVs
5. Second-life use: once the battery has reached the end of its first life in a vehicle, it can seamlessly transition to a second life in stationary energy storage (eg storing energy from solar panels in buildings) while ensuring that the full remaining battery energy (in the order of 70%) can be accessed
Data for insight
The shift from the combustion engine to electric vehicles makes data monitoring and analytics a mission-critical priority for the automotive industry. A simple example of this is a representative battery from a Tesla Model S which contains 7,920 individual cells. Every cell behaves slightly differently and these differences increase over time as the battery ages. If such variances are not accounted for, they will result in lower effective driving range, lower resale value and potentially even safety issues. Accurate data monitoring and analytics provide the solution to these problems. 
There are no sensors that can measure how much energy is left in a complex vehicle battery, nor any means of projecting how much longer each of the 7,920 cells will live, or even if any individual cell is in danger of failure that could lead to a fire. Such important insights can only be obtained through computations carried out by the battery management system (BMS), but conventional BMS have limited and hard-coded computational power which leads to outdated and inaccurate insights.
As current hard-coded BMS algorithms have inherent limitations, car makers necessarily apply conservative assumptions regarding their estimates of EV range and lifetime. So even though a battery may have enough energy to drive another 10 miles, the car will tell the driver it is out of power just in case the BMS computations are inaccurate by a few percent. The method for computing battery health is similarly inaccurate: automakers are forced to use conservative estimates that reduce EV range or charge rates due to the health computations of existing BMS technologies. Moreover, uncertainty about battery health directly translates to lower asset value. Consumer EV owners and fleet managers cannot command representative second-hand values as prospective purchasers do not know how much longer the vehicle will live and how much its range will deteriorate.
Brill Power's technology overcomes existing BMS limitations in two ways: 
Brill Power's battery operating system (the BrillOS), which sits directly on the BMS hardware, brings greater computational power to the battery and can maintain the accuracy of its computations via over-the-air updates throughout the life of the vehicle. This unlocks additional driving range and faster charge rates.
Brill Power's cloud-based data analytics platform can process large quantities of cell-level battery data and produce high-fidelity projections of future battery health and performance, which include available driving range, potential safety hazards and expected battery lifetime. This enables fleet managers and private owners alike to make more efficient use of their vehicles and helps command higher resale values of vehicles due to greater certainty around battery lifetime and safety. ​ 
Solving the second-hand market conundrum for EVs
EV battery warranties currently extend to an average of eight years or 100,000 miles. If the battery fails after this interval, it leaves the owner liable for the cost of replacing the part that accounts for around 40% of the vehicle's forecourt price. Brill's technology will overcome this inherent problem and extend battery life to around the same average lifecycle of an ICE-engine vehicle (12-15 years).
This additional vehicle life, together with dependable battery health intelligence that will enable second-hand buyers to forecast future vehicle life, provides some of the critical hygiene factors that allow the used EV market to prosper and thereby extend zero emissions mobility to many more drivers.
 A second-life for EV batteries
Range anxiety is arguably one of the biggest barriers to EV adoption. Even the range of brand-new EVs is often considered insufficient, which means there is not much room for that range to decrease over time. But it will decrease in every EV because batteries age and lose their ability to store energy. An EV battery is typically considered to have reached its end of life once it delivers no more than 70-80% of its original range. However, the battery can still store sufficient amounts of energy for applications in stationary energy storage (for instance, storing power to be used in commercial buildings and homes). This is why IDTechEx estimated the market size of second-life EV batteries to be worth US$7 billion by 2033. 
The economics of second-life batteries strongly depend on two factors:
The cost of repurposing batteries from first to second-life
The remaining useful lifetime of these batteries in stationary energy storage applications
Brill Power can help OEMs and the car automakers' tiered supply chain meet their circular economy commitments by enabling this second-life use of EV batteries by minimising the repurposing cost of systems that have reached the end of their useful life in a car, van or other vehicle. The reduction in cost is achieved through Brill's system incorporating DC/DC power conversion into the platform so it is 'ready to use' when ported out of a vehicle and into its second-life application.
Because of its active approach to extending battery lifetime and protecting against individual cell failure, the commercial viability of second-life stationary storage use of the battery can be significantly improved.
Future Proofed
Lithium-ion technology is currently ubiquitous in the automotive industry, but with the rapid development of new chemistries, Brill Power's automotive battery management systems are future-proofed by virtue of being completely agnostic to battery chemistry. The Brill system benefits can therefore be applied to any future battery technologies adopted by car makers.
About Brill Power
Brill Power brings together a unique team of world-class experts in battery and power management, edge computing, and data analytics. Newly developed, the Brill Power Battery Intelligence Platform brings transformational advances in longevity, performance, cost, and sustainability to electric vehicles and stationary energy storage.
For more information, please visit brillpower.com
About Dr Andy Palmer CMG
Dr Andy Palmer CMG is a chartered engineer and automotive executive. Having served in leadership positions at both Nissan and Aston Martin Lagonda, Andy has led transformational change at two of the world's most recognisable businesses in the industry. 
While Chairman of Infiniti and CCO at Nissan, Andy was credited with pioneering ground-breaking technologies, including leading the development of the Nissan LEAF electric car. At Aston Martin Lagonda, he oversaw the launch of four core car models with nine derivatives, including the development and launch of the DBX, the company's first foray into the growing Luxury SUV market.
 Beyond the boardroom, Andy is a licensed race car driver, advises the UK Government on export matters, and founded a charitable foundation to fund apprenticeships for young people from disadvantaged backgrounds. He was also made an Ambassador for the COP26 Business Climate Leaders campaign. In 2014, he was appointed Companion of the Order of St Michael and St George in the New Year Honours for services to the British automotive industry. 
See Dr Palmer's full biography here