char.gy to partner with Vauxhall Motors in its Electric Streets of Britain Campaign
Leading on-street charge point operator backs carmaker initiative with councils to help those without driveways to convert to electric cars
August 15, 2023

char.gy selected by Vauxhall to partner in Electric Streets of Britain initiative to help local authorities plan and deliver on-street charging provision for the 40% of British households without driveways
char.gy to demonstrate how charge point installation can be achieved quickly with minimum neighbourhood disruption
The company will share with local authorities how charge points can be reliable and dependable for local residents considering an EV purchase
char.gy's overnight charging approach to assist councils in meeting renewable energy targets and support Vauxhall's shift to an all-electric brand by 2028
char.gy to support councils planning for charge points within minutes of every front door for private motorists as well as company & self-employed van drivers ​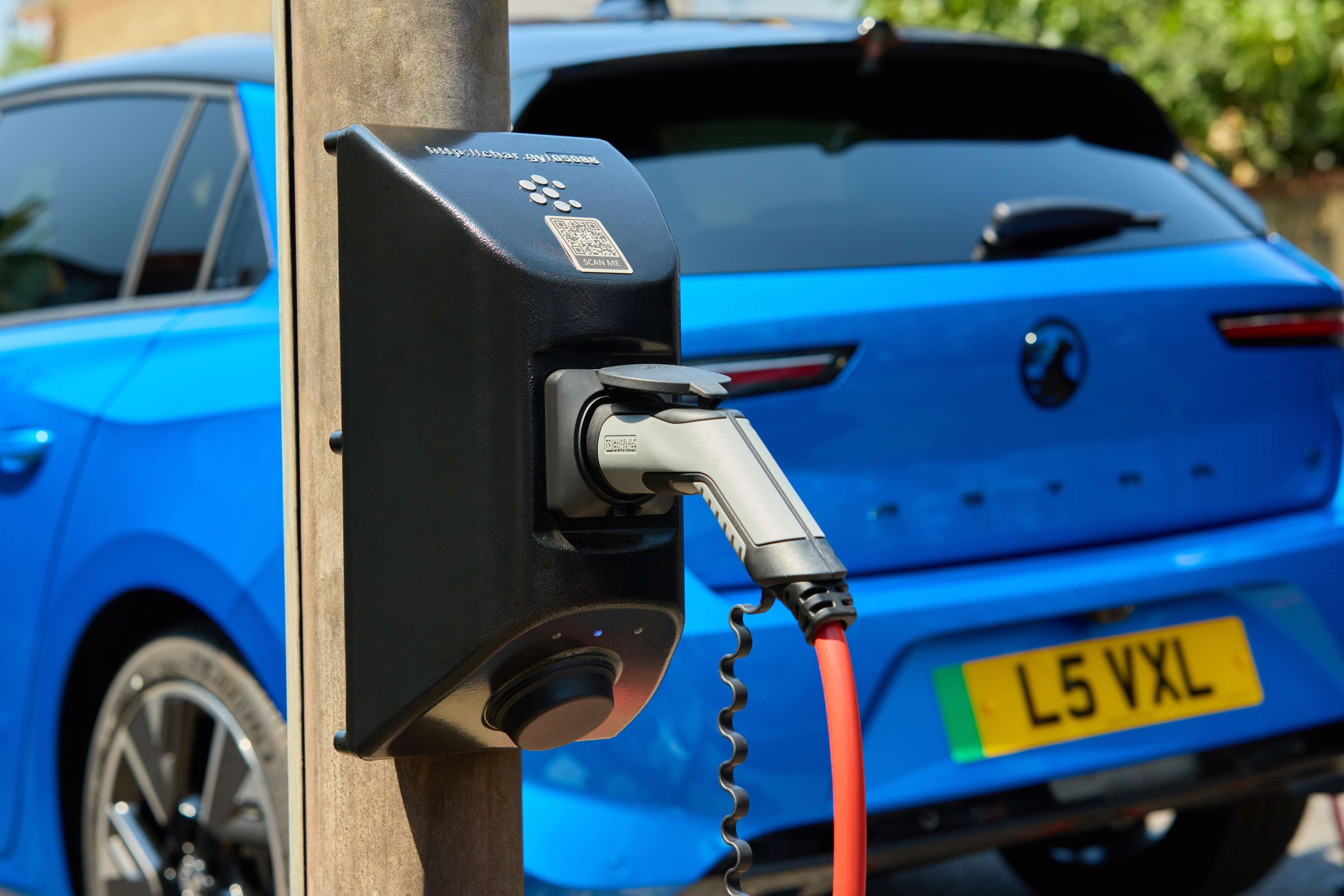 London, August 15, 2023 - char.gy, one of Britain's leading on-street EV charge point operators, has teamed up with Vauxhall to help local authorities across the country in their journey towards electrification.
Electric Streets of Britain is Vauxhall's initiative to help local authorities provide the 40% of British households without a driveway with access to fairly priced, local and reliable charging infrastructure so that EV ownership for more households becomes a viable option. ​ 
On-street EV charging is critical to EV adoption as data shows that 80% of all current charging takes place at home* and in its absence, adoption of electric vehicles will stall, especially among the 40% of UK households that do not have a driveway or access to off-street parking - a figure that rises to 60% in urban areas. ​ 
The launch of Electric Streets of Britain today brings the combined efforts of Vauxhall, char.gy and two other charge point operators to ensure that prospective EV drivers without driveways are not left behind. The campaign aims to assist councils, local authorities and city boroughs to develop and deliver a charge point infrastructure rollout plan for their residents through an enablement fund provided by Vauxhall.
Having almost tripled its network size in a year, char.gy will bring an established track record in helping councils to build networks quickly with minimal disruption to neighbourhoods. The advice to councils will help public officials to plan for new revenues from charge point operation, how overnight charging can make best use of renewable energy sources and how infrastructure once installed is maintained, so local residents have the necessary trust and confidence to invest in an electric car or van.
John Lewis, CEO of char.gy, said: "We are delighted to be part of this collaboration with Vauxhall, a fellow British brand dedicated to sustainable mobility. Our track record demonstrates our capability to deploy charging points precisely where they are needed, enabling residents to access affordable overnight charging options and maintain economical driving practices. Hand-in-hand with Vauxhall, we are committed to assisting more local councils across the country to plan to meet their residents' needs for best in class on-street public charging and accelerate our national Net Zero ambitions."
James Taylor, Managing Director, Vauxhall, added: "As the UK makes its shift towards electric vehicles, it is crucial that everyone is able to play a role in reducing emissions and building a more environmentally sustainable future. This is precisely why the provision of on-street charging points and EV infrastructure is vital. As a company dedicated to collaborating with local councils to provide easily accessible and cost-effective charging solutions for residents, char.gy stands out as a perfect ally for this new initiative."
char.gy's assistance for local authorities planning their charge point infrastructure will focus on five key considerations:-
Agility: char.gy's experience shows how networks can be deployed at speed. With its recent partnership with the London Borough of Merton, the charge point network was extended by 161% from 259 to 676 installations in seven months, which propelled Merton to first place for charge point density among outer London Boroughs. char.gy's scale and speed of installation allows network growth of up to 500 units per month.
Accessibility: Making use of existing street furniture such as lampposts which removes the need for breaking ground, char.gy manages infrastructure planning for local authorities to deploy charge points at the place of need – for instance, Merton now provides coverage within 2 minutes' walk for 80% of borough households, making overnight charging and EV ownership convenient.
Reliability: A key aspect of a successful network is reliability to build trust with drivers. char.gy designs and manufactures its own charge point hardware in the UK at its Coventry factory and oversees the associated maintenance for the duration of the charge point lifetime. This end-to-end approach yields an impressive 98% uptime rate, building user trust and mitigating inconvenience for councils.
Affordability: char.gy partners closely with councils to install and maintain charge points at no cost or risk to councils and share revenues to assist the funding of other community services.
Sustainability: char.gy's pricing tariff encourages drivers to charge overnight, aligning with periods of lower national energy demand and reduced costs. This approach not only offers cost-effective rates to users but also contributes to the use of more renewable energy sources**.
Alongside the intent to help local authorities use best practice to develop their charging facilities for their residents, the Electric Streets of Britain initiative has also established a new national database at vauxhall.co.uk/electricstreets for the public to register their needs, enabling councils to have a better understanding of where demand lies for on-street charging for both existing and potential EV drivers. ​ 
- Ends -
Click here to download a selection of high resolution, copyright-free char.gy images that can be used for editorial purposes.
Media Enquiries
Please contact Hannah Prigg, Whistle Ignite
t +44 (0)7860 864533
About char.gy
char.gy is a leading UK-owned and operated specialist in 'on-street' EV charging technologies and services. The company is on a mission to provide reliable, low-cost, renewable-sourced public charging stations that also inject revenue into local councils ensuring charging station access across the UK and better services for local communities. char.gy has over 2800 ​ public charge points in operation. Read more about us at char.gy
About Vauxhall Motors 
Vauxhall Motors started making vehicles in the UK in 1903. Today, as the oldest and most familiar of Britain's automotive manufacturers, its philosophy is to build vehicles that are relevant to all. Vauxhall's two manufacturing plants in Ellesmere Port and Luton produced 120,000 cars and vans in 2019, and its sales accounted for 7.5 per cent of the UK market.
Vauxhall is a leader in electrification – as of 2021 it is one of the first manufacturers to offer fully electric versions of all its vans. ​ By 2024, all Vauxhall cars and vans will be available with a fully electric version. By 2028, Vauxhall has committed to only selling fully electric vehicles. ​ Info: www.vauxhall.co.uk 
Vauxhall is part of Stellantis NV, a global leader created for the new era of sustainable mobility as a result of the merger between Groupe PSA and FCA Group in January 2021. As part of its Dare Forward 2030 strategic plan, Stellantis has committed to reducing its global carbon footprint by 50% by 2030, and to be Carbon Net Zero from 2038. 
Sources
*TfL Feasibility Study into Electric Vehicle Uptake and the Impacts of Associated Infrastructure (Source: TfL Electric Vehicle Charging Study)
**Energy Saving Trust (Source: Charging Electric Vehicles – Best Practice Guide)